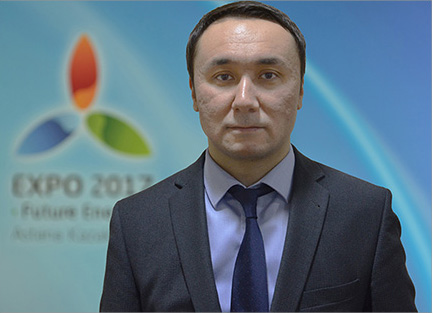 Managing Director of National Company «Astana EXPO-2017», JSC
1999 -2005
Starting 1999 till 2005 he worked as Chief Economist of Finance and Budget Planning Division, Chief of Investment Policy and Infrastructure Development Division, Chief of Financial Management and Marketing Division of the Economy Committee of Akim's Administration in Almaty.
Starting from 2005 till 2010 he worked as Chief of Financial Management Division, Budget Planning Deputy Director of Almaty Economy and Budget Planning Department.
In 2010-2015 he worked as Deputy Head and Head of Economy and Budget Planning of Almaty.
In 2016-2017 he worked as Deputy Chairman of the Board, member of the Board -Managing Director of National Company "Food Contract Corporation", JSC.
Starting February 08, 2018 Sardar S.Kabdulov is the Managing Director of National Company «Astana EXPO-2017», JSC.
EXPO 2017 in social media
Все права защищены.        2014 - 2019 © ASTANA EXPO 2017